By Police1 BrandFocus Staff
With a population of over 106,000, Boulder, Colorado, is nestled in the Flatiron foothills about 30 miles northwest of Denver. The city is home to the main University of Colorado campus and multiple high-tech and natural foods companies.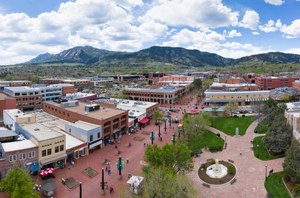 Boulder Police Department serves this community with about 185 sworn officers and 100 non-sworn personnel. The department accepts and manages applications and background investigations completely online, which helps expedite the hiring process. According to HR Services Coordinator Diane Herzberg, the department is always looking for new talent.
About four years ago, Herzberg was asked to find a secure electronic method to gather candidate pre-employment background information for Boulder PD's background investigators. The department had been using a 13-page document that applicants had to fill out by hand. While attending a conference, she heard good things about web-based eSOPH by Miller Mendel from the folks with the Metropolitan Police Department of the District of Columbia and asked them for more information.
"That was a big plus, the fact that a big department like DC was using it, so it was proven," Herzberg said.
Closer to home, she also reached out to Colorado Springs PD and visited with them to check out eSOPH in action. Based on those conversations, the software seemed to offer everything Boulder PD was looking for. They decided to adopt eSOPH, a fully online system designed to help law enforcement agencies request, accept and process pre-employment background investigation information in a secure and CJIS-compliant cloud-based platform.
HOW A CLOUD APPROACH HELPS BOULDER PD DO MORE
In addition to a team of background investigators, Boulder PD uses a rotating group of light-duty and retired officers to conduct the necessary background investigations of candidates.
"We generally draw on people from our department that are on light duty. We have even had a couple of retirees conduct backgrounds," said Herzberg, "and eSOPH definitely made that easier."
Because the information is stored securely in the cloud, eSOPH makes it possible for Boulder's background investigators to review applicant files on any web-connected device anytime, anywhere. All the department needs to do is make sure the investigator has a department-issued laptop, says Herzberg. This flexibility means investigators can pick up candidates midstream and the department can grow the pool of active background investigators as needed.
By providing a modern, paperless application process, eSOPH also helps the department avoid the potential pitfalls of collecting and sharing information via email and storing paper files. Protecting the sensitive personal information submitted by applicants is a key benefit of using eSOPH, she adds.
"I don't worry about it. Miller Mendel is so on top of security of the system that I feel more comfortable now that we're using it than before," said Herzberg. "People aren't emailing files and other information that shouldn't be sent through email, and I don't think there's a risk for the information that's stored in eSOPH to go anywhere it shouldn't."
She can also rest easy knowing that the department's data is backed up. In addition to CJIS-compliant cybersecurity-type protections, data stored in eSOPH is backed up in real time, and the agency controls how long records are kept before being archived or purged.
HOW ESOPH WORKS
The eSOPH (short for "electronic statement of personal history") platform, designed specifically for law enforcement agencies, supports the hiring process with tools that import an applicant's credit report and social media activity, as well as other information. When applicants and references enter data into the system, eSOPH auto-populates that information across the applicant's file, saving significant investigator time and eliminating potential for data entry errors across multiple areas of the investigation.
Putting everything online makes the process easier and more appealing for today's applicants, who have come to expect the ease of electronic communication. And with eSOPH, the system automatically directs the applicant to the right questionnaires and other requirements based on what position they're applying for. The system also automates the sending of relevant documents to be completed online, including contacting the references listed by the applicant or added by the investigator.
"We created each questionnaire to mirror what we'd been asking on paper," said Herzberg. "We have definitely created it to be specific and appropriate to the position."
The eSOPH system also eases the documentation burden for the department. Each applicant's information is stored and tracked in a comprehensive file, and the system provides reporting and alerts to track progress and log every activity that occurs related to each applicant's background investigation.
Herzberg credits Tyler Miller, founder, president and CEO of Miller Mendel, with providing continuous support to make the transition from paper to eSOPH a smooth one.
"Once we started really engaging with eSOPH, Tyler was so helpful and super responsive and very patient," she said. "He came out and walked us through it."
Herzberg appreciates the ongoing personal service, availability and guidance. Although making the shift from paper to electronic took a little convincing for her team at first, she now says everyone is delighted with how quick and easy it is with eSOPH. Many agencies using eSOPH report that they are able to complete each applicant background investigation in about half the time required for a manual, paper-based process.
"The initial transition when we went from paper copy to electronic was a little bit of a sell because people were asking, 'What? Where do we take our notes?'" she said. "But almost as soon as they started using it, everybody's on board with it. They realized how much easier it is."
SEARCHING SOCIAL MEDIA FASTER, MORE THOROUGHLY, MORE CONSISTENTLY
Herzberg says the adjustments and improvements that Miller Mendel has made to eSOPH since her agency initially came on board have helped greatly and demonstrate that the company is responsive and willing to try new things to help their customers.
Two recent improvements to the eSOPH platform that Herzberg says have proved particularly valuable to her team are the social media reports and the credit reports:
Through the Social Intelligence tool, background investigators can request a basic or comprehensive social media and online activity screening report prepared by a trained professional and added to the applicant's eSOPH file.
With a click of a button, the investigator can obtain a consumer credit report from Experian, which automatically imports into the applicant's file. To help agencies comply with the Fair Credit Reporting Act, the system automatically notifies and makes a free copy of the credit report available to the applicant.
"That was a huge time saver for me, because I was having to do all the credit checks for the investigators, and that was just a pain in the neck," she said. "And the social media piece is much more comprehensive and consistent than what we were able to do in house."
Rather than labor-intensive Google searches by each investigator, eSOPH can obtain a comprehensive social media report with just a few button clicks. The report posts to the applicant's file within a day or two, and if something is flagged, the investigator can view a screenshot of the concerning content and follow up as needed.
"The social media screening report we receive through eSOPH includes multiple different online sources for any online activity that the applicant has, and it comes back with a report that contains a narrative," said Herzberg. "Before that, I'd tell people, 'Please Google the applicant, check on Facebook, check on Instagram' – I can't even think of the number of places, as it's changed over the years, but just trying to get out there and see what kind of a presence the applicant has had. The report through eSOPH is more consistent and comprehensive."
Someone recently asked about paperwork required for the background investigation process, she says – and she was happy to answer that there isn't any.
"eSOPH has made everything so much easier," she said.
For more information about eSOPH, visit Miller Mendel.
Read Next: How to avoid bad hires with the right pre-employment background investigation tools